Asset Management System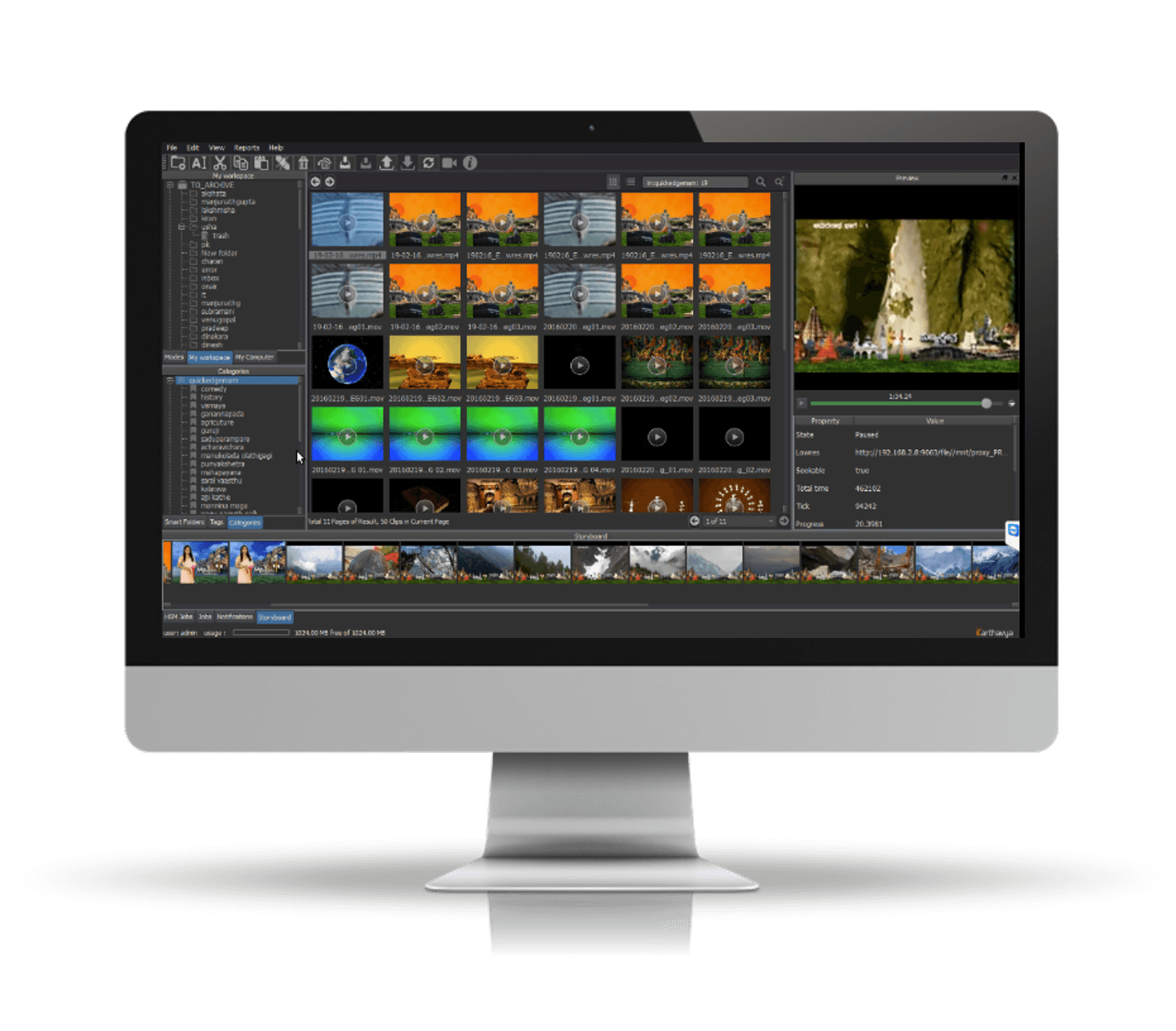 Managing over 20 Million assets spanning over 7 PetaBytes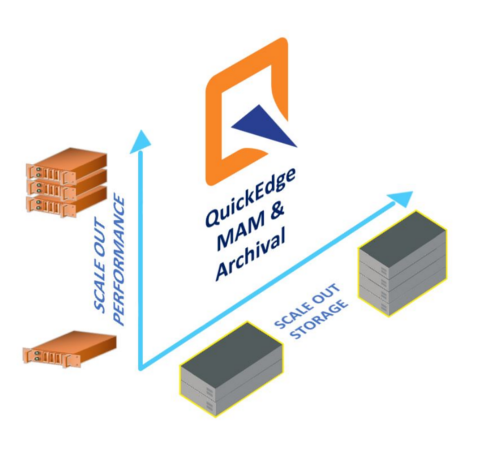 Your imagination is your limit: Scale-out performance architecture for multi PetaByte sites

Clustered nodes
Scale both vertically and horizontally on performance and Users with the industry leading core design

Codec Agnostic
Integration with multiple transcoding engines ensure that the latest media formats are always supported

NLE Plugin
Powerful NLE plugin for Adobe Premiere and Final cut Pro(FCP)

Works on Mac/PC
Built using cross platform technology the user interface remains the same on both the platforms

Open Metadata
Media stored with all meta data embedded along the media in an open json format
Unified user interface
Both MAM and Archive media available in a single integrated user interface
TRU Bandwidth
Bandwidth optimizer enables zero processing overhead, ensuring highest throughput

In memory database
Blazing fast search with in RAM database. No traditional disk search
SOLO
Suitable for small teams with in premise storage on NAS/SAN/DAS
10 User license

No data restrictions
STANDARD
Suitable for large work-groups with additional need for LTO/ODA/Cloud storage
30 User license

No Storage restrictions

Hot backup server

LTO/ODA/CLOUD interface

Adobe Premiere Pro and FCP X Plugin

Partial clip retrival
ENTERPRISE
Suitable for large organisations with multiple locations
All features of STANDARD Edition Plus

Unlimited User licenses

Cluster Computing Support (Scales up to 16 Servers)

Document Assets support including intelligent deep indexing

Dual hybrid archive (In premise + LTO, In premise +Cloud, LTO+ODA etc)
Acknowledging the fact that "Content is the KING" in a media-driven workflow, QuickEdge asset management provides you complete control on media and document assets available. One of the first in the industry to incorporate cluster computing support, all operations load is divided across the server cluster which helps in extreme scalability.
A core Linux based backend provides robustness and better security for content
Supports multiple production storages across different platforms & protocols. Cross-Platform Client supports both Windows & MAC
Youtube Plugin – Upload and Manage your YouTube channel right inside the MAM User interface
Well thought user management system enables folder wise privileges to Add & edit metadata, read-write operations, Monitor system resources
NLE-PLUGIN: Powerful NLE plugins for Adobe Premiere Pro (Premiere Pro CC 2018 or later), final cut pro X and Edius enable media browse & search right inside the NLE. Drag and drop media directly on to the timeline and export to QuickEdge MAM
"SMART FOLDERS" and "INTRA SHARE"  features help in collaborating media with the teams.
Unlimited multi-type metadata fields. (Date, Text, paragraph) help you create a metadata structure of your choice. each user can further customize the metadata fields.
Access privileges can be assigned based on user or groups. Additional support for LDAP based authentication
Partial retrieval support with multiple mark in and outs.
Smart Quota system : Allows user-specific storage area allocation.
Duplicate media detection: Find identical media files across the solution and reduce duplication.
Complete system administration using remote web application.
Intelligent caching for media lying in offline media like LTO, ODA and Cloud
Client Workstation: Min Requirements
CPU:Intel Core i5
HDD:100 GB HDD
MEMORY:4 GB RAM
NETWORK:Gigabit Network card
OPERATING SYSTEM: MS Windows: 8, 10 Pro
Mac OS X: Leopard, Snow Leopard, Lion, Mavericks
Future Ready
Content is flowing in from multiple sources as new and faster means of Media Exchange technologies evolve and new distribution avenues such as Youtube, OTT, VOD are gaining momentum. The revenues from the alternative distribution models are steadily growing
QuickEdge MAM has been designed keeping the evolving media landscape in mind so that you are always in pace.
Frequently Asked Questions(FAQ)
Which Storages does QuickEdge MAM Support?
QuickEdge MAM Supports all disk based storages(NAS/SAN/DAS) which support the following protocols: FTP, NFS, SMB/CIFS and Native File systems
Does QuickEdge support Transcoding and rough editing?
Yes, QuickEdge supports rough editing and transcoding of media across all major broadcast formats.
What advantages does the cluster architecture of QuickEdge have over traditional architectures
Cluster architecture of QuickEdge MAM provides unlimited scalability as well has high availability both very important for a Broadcast workflow. Adding additional nodes to the cluster increases both performance and availability of the cluster.
What platforms does QuickEdge MAM support
QuickEdge MAM has a cross-platform Desktop application as well as a pure web based application. It supports all platforms and device types.
Does QuickEdge MAM support multiple storages?
Yes, QuickEdge MAM supports multiple storage solutions. The storage can be a mix of NAS, SAN, DAS, LTO, ODA and Cloud
Can users define their own metadata fields?
Yes QuickEdge MAM supports addition of multiple custom metadata fields. The created fields will be immediately indexed for quick search.
How does the QuickEdge MAM ensure data integrity?
QuickEdge MAM using its high-performance checksum calculator verifies each file bit by bit to ensure data integrity after each operation.
  Supported Third party Devices
Storage