Newsroom Computer System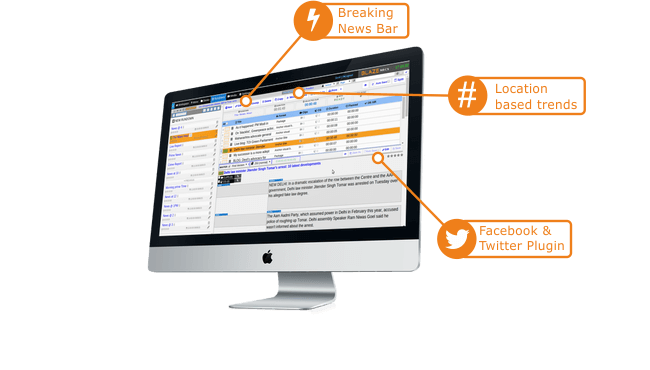 Truly #SOCIAL
BLAZE NRCS built from base keeping in mind the evolving Social interactions, gives you the edge in engaging the audience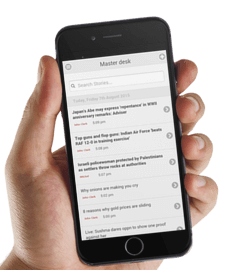 Simple - yet a powerfull app
The Mobile App is just not an add-on functionality, infact it is designed to facilitate seamless execution of main engine's core functionalities.
Cross Platform device access
Pure web based application which runs on any platform be it Windows, Mac or Linux. The application scales according to the device be it a Mobile or a Tab
Comprehensive Reports
Track productivity of the newsroom as a whole and on an individual basis. Its unique rating system ensures that the reports are the most accurate.
MOS Protocol Support
Fully supports MOS Protocol for information exchange. Additionally XML or REST based integration is also possible with third party devices.
No user licence restrictions
Scale your organization at your will. We offer a "No strings attached" unlimited user license.
Unified user interface which works across Windows, Mac and Linux platforms
Separate mobile application which supports Android
Social Media Integration : Facebook Posts, Twitter Posts & Trends
Enhanced touch device support for an intuitive user experience
Inbuilt generic Wire & RSS parser engine
Unicode support and I18N-L10N Mode
Web-based server management
Classic Split window scripting
Blazing fast Search with a dedicated indexing engine for enhanced performance
Powerful rundown scheduler and planning
Inbuilt generic Wire & RSS parser engine
Hardware independent decoupled architecture
Intra messaging and Chat system
BLAZE NRCS BLOCK DIAGRAM
NRCS Server(MAIN & HOT Standby): Min Requirements
CPU:Intel Xeon E5 2400 V2 Series
HDD:2 X 120GB SSD HDD on RAID 1
MEMORY:16 GB DDR4 RAM
NETWORK:Dual Gigabit Network card
OPERATING SYSTEM: Ubuntu 14.04 with LTS/RHEL 5.5
Client Workstation: Min Requirements
CPU:Intel Core i3
HDD:100 GB HDD
MEMORY:2 GB RAM
NETWORK:Gigabit Network card
OPERATING SYSTEM: MS Windows: 7 Pro, 8 Pro, 10 Pro
Mac OS X: Leopard, Snow Leopard, Lion, Mavericks
Linux: Any distribution with GUI support
Comprehensive MOS Support
Add additional MOS devices on the fly without any downtime. Supports the following versions of the Protocol: 2.6, 2.8, 2.8.1, 2.8.2, 2.8.3. Exhaustive logging helps you debug any connectivity issues easily.
Frequently Asked Questions(FAQ)
Does BLAZE work on Mac as well?
BLAZE NRCS is a pure web based application and works seamlessly on Windows, Mac and Linux. You just need the latest version of your browser to access it.
How does BLAZE licences work?
BLAZE comes with an unlimited user licence. Yes a true unlimited user licence. You can scale the server hardware and add more users as and when you need without any need to procure additional licences.
Does BLAZE integrate with social media platforms?
Yes, BLAZE has a powerful social media plugin which integrates with facebook, Twitter and Youtube. You can share news items in Blaze directly on to social media platforms.
What versions of MOS does BLAZE support?
Blaze supports the following MOS protocol versions: 2.8, 2.8.1, 2.8.2 and 2.8.3
Does BLAZE work with a non MOS device?
Yes, Blaze works with devices which don't support MOS protocol. BLAZE has a JSON based API for integration with any non MOS supported device.
How long does BLAZE store old stories?
Forever, BLAZE archives all old stories automatically and indexes them for availability during search. Just for an estimate an year's stories will approximately take just over 1GB of space.
Does BLAZE work on a Mobile or Tab
Yes, BLAZE has a full fledged Android application for mobiles and Tabs.
  Supported Third party Devices
Teleprompters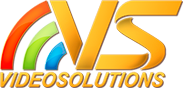 Automation Systems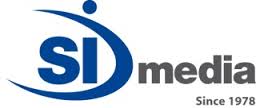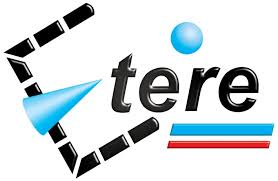 Graphics